Hello, I am Will Chaillou owner of Business Machines Service * Sales * Supplies. I've been servicing and selling copiers, fax machines, and printers in Harford, Cecil, & Baltimore Counties since 1983. I opened Business Machines in 1995, back then it was me (working out

of my basement), my 1988 Chevy van, and my tool kit. We have grown into Harford County's largest and most trusted Office Equipment Company. Some people say they live and breath this stuff, but I know copiers from the inside out. I know what they can do and not do, that is how I sell copiers as a tech looking out for your best interest.




We are a re-seller of Canon, Kyocera, Okidata, Ricoh, and Toshiba

Copiers, Faxes and Printers.




Our Technicians are on the road servicing from 8:30 AM to 5 PM,

Monday thru Friday, to take care of your repair needs.
Click this text to start editing. This blog block is a great way to share informational entries with your visitors. You can click the green +/- button to add new entries.
Click this text to start editing. This blog block is a great way to share informational entries with your visitors. You can click the green +/- button to add new entries.
The change of Power,

What did they discuss?
Make your office Great again!
Call Will @410-838-1227
This is not a political statement,
I just thought it was funny.
Make your office Great Again!
Make your office Great again!
Call Will @410-838-1227
This is not a political statement,
I just thought it was funny.
Thanks Compass Home Group!
Thank you Compass Home Group! We just delivered
a pair of Toshiba color copiers to their new Bel Air Office.

How long does it take to get a copier delivered?
Got a call Tuesday at 10:30 am from Cindy at Mason Dixon Community Services in Delta PA,she wanted me to come to her office after 3 pm to discuss purchasing a new copier. I arrived at her office at 3:30, discussed the copier I thought would be a good fit for her. Wednesday at 10 am we pulled up with their replacement copier.
So I'm thinking 19.5 hours.
I know I just asked this but,

How long does it take to get a copier delivered?
For the ladies in picture from Restoration Tabernacle in Cecil it took about 17.5 hours. They are some happy ladies smiling ear to ear. You talk about nice people I have known Mary on left for years. Not only is she good people, every church is goes to a different we sell another copier. Thanks Mary!
So now, I'm thinking 17.5 hours.
Somethings are just RUDE like hanging on the phone when on a date, or talking on your cell while the movie is on. My #1 rude is having someone reply to an ad I ran in this case on Facebook, have them agree to a time and date for an interview and then not show. Not only do they not show, they don't call, or message back say they are not coming. I as a employer set my time apart for the interview so I can't really start anything else.

RUDE IS RUDE!!!!!!

Ticker Tape Parade: APG MD

Jim and I worked on a Xerox 7845 color copier at Aberdeen Proving Grounds today that has needed service for a long time. After we finished Lisa (the lady next to the copier) announced that the copier was fixed as we were leaving and the employees stood up and applauded us as we walked out the door. I went out to give an estimate on December 12, 2018 and we just got approval to order the parts last week. So the copier was unusable for at lease two months and 18 days or more.
Heroes: conquering
one copier repair at a time!

Does anyone remember your first day at work?

I was hired at Lehr Office Machines in 1983 and the first day I shown a room full of broken office equipment and the boss said lets see if you can fix any of these. (I had never worked on office equipment before, I did use a Cash Register before being in the retail business for 12 years prior but that did not help much). He left to go out on calls and there I was, that was on the job training at it's best or being thrown to the wolves I'm thinking the latter. In that room were typewriters, faxes, printers, copiers, cash registers, duplicators, calculators, and manual adding machines, talk about a crash coarse. But I learned a lot by myself in a room in Forest Hill.

The First Day at Work Got to Love It!
Business 101 Keeping the money !!!!!!

I can't print anything! What is wrong with my Printer/Copier?

I can't print anything from my computer but everyone else can .

As a rule printers do what they are told to do. They are not selective so if anyone in the office is able to print the printer/copier is not the problem. There are several thing I have seen over the years that will cause this problem.

1) Check to see if your computers network cable is plugged in. I have driven 35 miles just to plug in a network cable.

2) Check to make sure you have the proper printer selected. Many print drivers are last used drivers meaning they default to the last used printer.

3) Check the IP address in the print driver. Then check the IP address for the same print driver on another computer that is working, if different change yours.

4) You have downloaded something off the internet and it corrupted your print driver. In this case delete the print driver and go the manufactures website and down load the latest print driver.
If the above is more then you can do on your own Call Us 410-838-1227.

Got Your attention!

Every month we do a drawing for a $50 gift card to a restaurant. To enter all you need to do is write a Google, Facebook, Yelp, Bing review or like or share a post of Business Machines on Facebook. The next drawing is March 31st.

Go to BusinessMachines.com & click on Google Review, Twitter or Facebook.
You have to review, like or share to win!!

Thank Your Winters Run Golf Club!

Winter's Run Golf Course was hit by a tornado last year in August it tore part of the roof off right over their copier. They just moved back in their newly remodeled office and we delivered a New Kyocera T/A 406ci copier.



The ladies were real
pleased with the new machine!

Should I put My Copier Under Contract?

I get ask all the time, should I put my copier under contract?

YES, YES, YES!!!

I just billed a customer at APG $2,600.00 to do the preventive maintenance on their copier?
2,600 reasons to have a contract!
Thanks Tom and John Lerch, at Lerch Brothers Landscaping. They just purchased a Toshiba ES 4555c color copier from us. They are a new customer who found us on the internet, we are looking forward to long business relationship between

The Lerch Brothers Landscaping

and Business Machines.
Pardon my RANT!

I had a fellow come in for a job interview yesterday.

1) He was 20 Minutes late, he said his baby sitter got to his house late. Did he call and let me know NO! The last job on his application, he worked for a week. He was fired for being late.

2) He came in wearing a skull cap, it was 56 degrees and sunny. Did he take it off, NO! The position was not for a high paying job with a accountant firm. I have minimum dress code standards, a button down shirt, casual pants and shoes but not jeans and or tennis shoes.

I have owned Business Machines for 25 years, so I have not been on the other side of the interview for quite a while. I don't think I was ever late or came in looking like I was going out to hang with my bros.

The interview should be your best foot forward, over dressed is always better then under dressed. Now if you are interviewing at Starbucks wear the beanie, jeans and tennis shoes.

DID I HIRE HIM? NO!!!!
XEROX

We have been getting calls to service Xerox Copiers over on Aberdeen Proving Grounds. Lots of WC-7835, 7845, 7855 and 5835 and 5845. I like working on them. They make sense, so we are going to start selling them.




Funny how things work out sometimes!



Rant #2 Facebook!

Last week I ran a ad on Facebook and I got 85 people applications in two days. Not bad.

Of the 85 I rejected 35 because they have a PHD's, or they have had 9 jobs in 3 years, or they don't have a drivers license or a couple of resent DUI's or they don't speak English.

Then there were about 50. So I did just like other employers do I looked at their Facebook page. How stupid to have photo after photo of yourself, high on pot, or with whiskey or a beer in your hand, I'm not talking one or two but one after the other, after another. Have you ever thought what it looks like to an employer to see your posts of selfies I mean dozens and dozens of pouty lip selfies. Just what employers want self centered / self focused people working for them. Here is the best one a guy doing that gang pose and a whole bunch of photos of hand guns, like lots of them, like anyone in his or her right mind would hire him.




Then there were 5 people I would consider.

Watch what you post, your friends my think they cool but they are not going to pay you, so you can pay your bills.



Manual Typewriters and the repair there of.

That is ink on my hands from the ribbon I installed.

It seems like I only have to install a ribbon on a Manual Typewriter when I am going out dinner that night. One may ask why not where rubber gloves? Because you just can't feel the ribbon with them on.

It's a dirty job, But someone got to do it!



Thank You Don Curry at TCA Property Management Inc in Aberdeen. We just delivered a Xerox WC 7845 last Thursday. We replaced the Panasonic DP-C213 Color Copier they purchased from us back in 2012.

Got to love the repeat customer!



Thank You Cani Optical!

We just delivered a Kyocera M6535cidn Color copier to Cani Optical in Aberdeen Maryland. We replaced the Okidata MPS3537mc that they purchased from us back in 2014.

Got to love the

repeat customer!



Business Machines Closed GOOD FRIDAY

Closed GOOD FRIDAY April 19th 2019 for EASTER.

SEE YOU IN CHURCH!
Warning Warning! Do not plug a Space Heater in to a extension cord. Don't plug a Space Heater in to a power strip. And don't don't don't plug a space heater in to a power strip that is plugged in to a extension cord. And Don't x 1,000,000 time PLUG IN A SPACE HEATER AND A COPIER into a power strip that is plugged in to a extension cord. We got a service call on a copier we delivered a week prior, the code was low voltage the tech sent me a photo of what he found when he got there. What you can't see is that the new copier was also plugged in to the power strip that was plugged it to a 100 foot extension cord. A certain amount a voltage is lost over the length of the wire so the longer the wire the greater the loss. I am not sure what the voltage was by the time it got to the copier but it was low enough that the copier could not run. Not only is it bad for the copier, it is a fire hazard.

If you are the customer who did this PLEASE FORGIVE ME for posting this,

It is important that people know this.
Thanks Craig at C.D. Lawn Care for purchasing a Okidata ES8473 color copier from us. We at Buisness Machines are looking forward to many years of servicing you.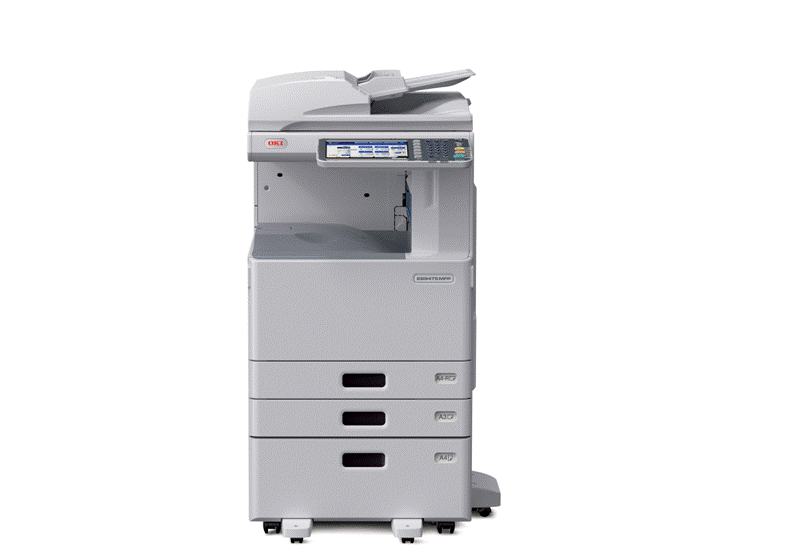 Thanks Mike at Michael Bryan Landscapes for you purchase of a Toshiba ES3055c Color Copier. They are a new customer for us and We are looking forward to many years of serving them.

And the winner is! Angel Burhman @ TJ Distributors

Every month we do a drawing for a $50 gift card to Outback Steakhouse. All you need to do is write a 5 STAR Google, Facebook, Yelp, Bing review, like or share a post on our Business Machines Facebook page.

next drawing June 2019
Generator + Copier

= Costly Repair!

A customer of ours builds and sells small clusters of homes and moves their office from time to time. Their last move was in to a Office Trailer, Unknown to us they had no electric at first so they were running the office with a generator. We shortly there after had a rash of service calls. When this happens we put a line monitor on the outlet that the copier is plugged in to for seven days. During that time the voltage sagged down to 91v, 88v, 92v, 81v and 31v twice and spiked to 134v and 158v.

Never Run a Office Grade Copier with a Generator!!!
Thank You Pastor Lewis at Agape Church

in Havre de Grace Maryland for you purchase of a Toshiba ES4555c color copier. They are a new customer for us and we are looking forward to many years of serving, friendship and fellowship.

$50.00

GIFT CARD

Do you know someone who needs to replace their copier send me their info and if they purchase a copier, I'll send you a $50 Outback Gift Card.